If there's one thing that is true for inventory, it's that it moves across a lot of channels before it gets to the consumer. To run your business cost-effectively, it's essential to understand the four different types of commonly used inventory and the stages they move through. But first, let's define "inventory."
What is inventory?
Inventory is everything a company utilizes to sell or produce products, from finished goods and parts to raw materials. And depending on what goods or services your business provides, inventory can be anything from bananas to nails to raw silk to priceless works of art. 
Usually, inventory is managed via an inventory management system: a sheet of paper or a notebook, a spreadsheet, or inventory management software. By properly managing your inventory, your business will know whether you have enough stock to satisfy customer demand—and exactly when it's time to place another order. 
Businesses practice tight inventory control because it affects productivity and profitability. And even if a business doesn't sell or consume every day, just about every company can benefit from managing assets like computers and furniture. 
What are the 4 types of inventory? 
The four types of inventory most commonly used are Raw Materials, Work-In-Process (WIP), Finished Goods, and Maintenance, Repair, and Overhaul (MRO). You can practice better inventory control and smarter inventory management when you know the type of inventory you have. That includes choosing the best inventory management software to keep track of all that inventory.
1. Raw Materials
Materials that are needed to turn your inventory into a finished product are raw materials. These inventory items are bits and pieces of component parts that are currently in stock but have not yet been used in either work-in-process or finished goods inventory. 
There are two types of raw materials: direct materials—which are used directly in finished goods, and indirect materials—which are part of overhead or factory costs. 
Inventory example: For example, direct raw materials might be leather to make belts for your company would fall under this category. Or, if you sell artificial flowers for your interior design business, the cotton used would be considered direct raw materials, too.
Indirect raw materials might be lightbulbs, batteries, or anything else that indirectly contributes to keeping your shop running. 
Related article: What is a Bill of Materials (BOM)?
2. Work-In-Process
Inventory that is being worked on is Work-In-Process (WIP), just like the name sounds. From a cost perspective, WIP includes raw materials (plus, sometimes labor costs) that are still "in production" when the accounting period ends. 
In other words, whatever direct and indirect raw materials your business is using to create finished goods is WIP inventory. 
Inventory example: If you sell medical equipment, the packaging would be considered WIP. That's because the medicine cannot be sold to the consumer until it is stored in proper packaging. It's literally a work-in-process. 
Another example would be a custom wedding dress that's not quite finished when the end of the fiscal year rolls around. That lace, silk, and taffeta are no longer raw materials, but they're not quite a "finished goods" wedding dress, either.
Experience the simplest inventory management software.
Are you ready to transform how your business does inventory?
Start a Free Trial
3. Finished Goods
Maybe the most straightforward of all inventory types is finished goods inventory. That inventory you have listed for sale on your website? Those are finished goods. Any product that is ready to be sold to your customers falls under this category.
Inventory example: Finished goods could be a pre-packaged fruit salad, a monogrammed bathrobe, or a custom-built laptop ready for an employee to use.
4. Overhaul / MRO
Also known as Maintenance, Repair, and Operating Supplies, MRO inventory is all about the small details. It is inventory that is required to assemble and sell the finished product but is not built into the product itself. 
Depending on the specifics of your business, this inventory might be in storage, at a supplier, or in transit out for delivery. 
Inventory example: For example, gloves to handle the packaging of a product would be considered MRO. Basic office supplies such as pens, highlighters, and paper would also be in this category.
How Inventory Management Software Can Help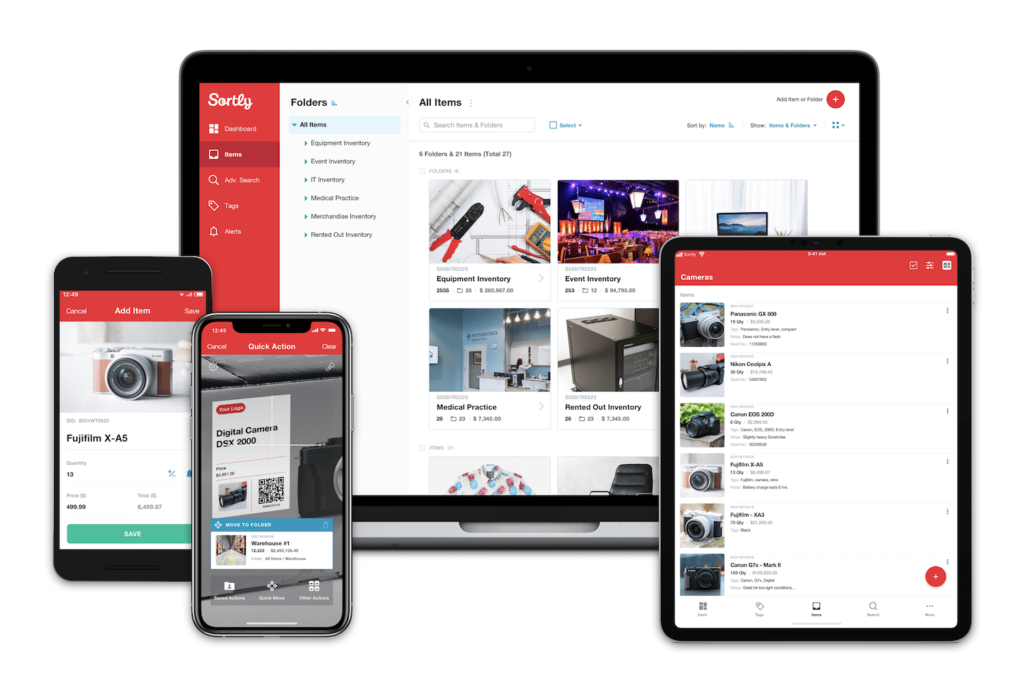 Keeping track of all that inventory can feel overwhelming, especially if your products are stored all over the place. This is especially true if you are still using outdated systems like spreadsheets. 
But with the right inventory management software, you can keep everything organized. Inventory software reveals in real-time exactly how much product you have in stock, and alerts you when you need more. It's also an easy way to monitor which stage of the process all your inventory is currently in. Customizable features make it even more intuitive. 
With inventory management software you can:
Keep track of current stock levels so that you know when to order more of the inventory you need. 

Tell you how much specific inventory items are costing you

.

Monitor inventory activity. 

Save time by effortlessly scanning items using QR codes or barcodes.
Get help with organizing all that inventory. Start a free trial of Sortly today.
Download Sortly free on iOS and Android: