Dead House Designs, which specializes in designing and producing haunted props and staging, is based in Jefferson, Louisiana. The company does a ton of work creating custom items for the latest escape rooms and Hollywood blockbusters, including some of your favorite horror movies. They work with clients all over the country, building from scratch as well as setting up or delivering spooky themed sets and products on-demand.

These Louisiana creatives needed more than Excel to manage their inventory
For Dead House Design's Warehouse Assistant Manager, Michelle, inventorying all of the company's stuff used to be really, well, scary. First, the company used only pen and paper. Then, a spreadsheet. But that still wasn't cutting it.
"It was a constant problem, trying to keep up with how many items we have and where they were. There's no place to integrate pictures on a spreadsheet, no way to barcode, no way to break things into different rooms," said Michelle. "It was just a mess. It was a problem for me in every way."
So Michelle began searching for an inventory management system that was, in every way, faster, easier and better. Her main requirement? A solution that didn't require her to invest in expensive (and easily breakable!) scanners. She wanted to use the smartphones that everyone was carrying around already.
Said Michelle, "At my previous job, we had an expensive inventory system with an external scanner. The scanners were always broken, and if you can't scan your items then your inventory is not accurate. It's useless."
"I had never heard of Sortly before. It popped up and there was a 14-day free trial," she said. "So I was like, let's try it… and we loved it from the first day."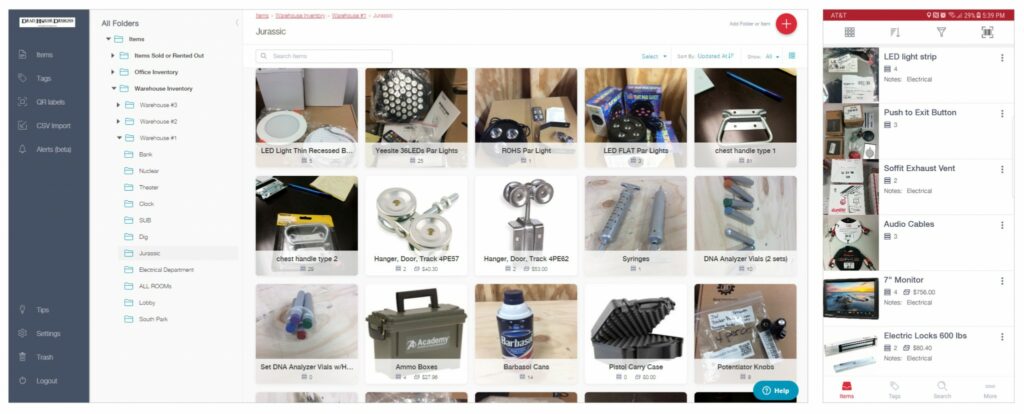 Now, Dead House Designs is saving valuable time and money
Michelle estimates that her company is saving $200 a month by not paying for expensive inventory software, plus another $300 in increased productivity. That adds up to $6,000 a year.
"Sortly is also saving me time and stress each day," Michelle adds. "My job responsibilities have multiplied. So to be able to use Sortly to manage inventory in an hour–when it used to take six hours a day–is a game changer."
Michelle also loved how easy it was to onboard her colleagues. Even though some of her coworkers weren't very tech savvy, the process was quick and painless.
"I was amazed at how simple but thorough Sortly was," Michelle said. "My colleagues basically figured it out on their own."
Michelle's favorite Sortly features are:
Ability to add high resolution images (so important to creative, visual businesses)

Easy sharing with colleagues, customers, and vendors

Robust, on-the-go capabilities that match the company's business model
If Michelle could give one piece of advice to other companies out there, it's to try Sortly out.
"You have to use it," said Michelle. "Get the free trial, and I guarantee you, you are going to fall in love with it."
About Sortly
Sortly is a super simple inventory and asset tracking system that enables you to visually track all your items and any of their details —for a more intuitive way for your team to track your inventory across multiple locations.
Unlike other inventory tracking systems, you won't need any lengthy sales visits or a 100-page guide to figure out Sortly. It's built so you can have up and running in minutes, all on your own. Learn more or try Sortly free for free today.