You know what really grinds our gears? When inventory management struggles keep good automotive shops from reaching their true potential. Think about this: when a car has a clogged fuel filter, it can still get from point A to point B— but the fuel pump has to work much harder, resulting in a far less efficient drive. The same thing happens to your business when your inventory management system needs to be replaced.
Implementing a fantastic auto parts inventory management system can get you firing on all cylinders. Here are six things your auto parts management software should be able to do. 
1. Automate your inventory counts
Running a busy shop leaves little time for administrative tasks, and taking inventory can leave you spinning your wheels. Fortunately, with great software, you can access accurate stock counts on every item at the touch of a button.
Easy inventory audits prevent major money-drainers, such as:
Overstocking: If you have a pile of items stored that you won't be using in the near future, that means your capital is tied up in unessential items. 

Understocking: Work orders are delayed when a necessary item isn't in stock, leading to unhappy clients  

Inaccurate estimates: Knowing exactly what parts and equipment you have on hand gives you (and your customers) the benefit of more accurate service cost estimates. If you have to rush order an item, you can include those surcharges on an estimate.
2. Track parts across multiple locations
Automotive businesses with more than one location and mobile repair service providers need an auto parts inventory management system that can efficiently track items across several sites. Thanks to modern auto parts inventory management software, the days of calling around to every shop in search of parts are long gone.
The right software will give you the power to search for an item and immediately learn its location. This also helps with logistics as you manage future orders: you'll be able to get all the right items and equipment to the right location way ahead of time!
3. Utilize barcodes
There's no reason you and your employees should be spending time manually recording UPC codes into a spreadsheet. Not only is it time-consuming, but it also leaves your inventory open to human errors due to missed or transposed digits. Your auto parts inventory management system should utilize barcode scanning capabilities to ensure accuracy and efficiency.
4. Track equipment usage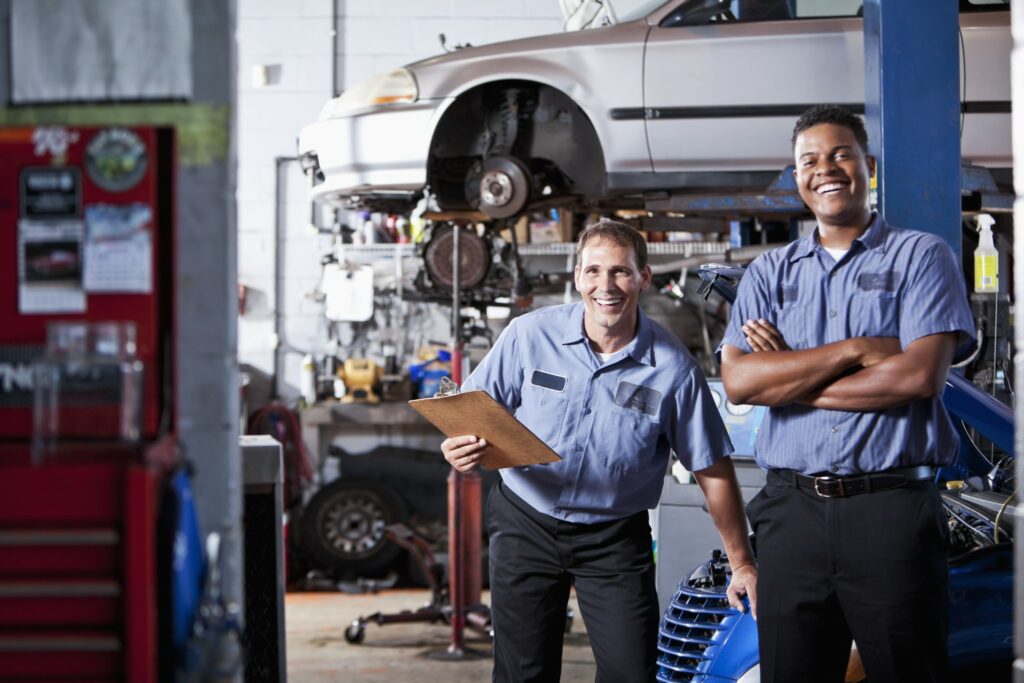 With great inventory management software, you have the option of tracking your parts and equipment by users. This is especially helpful if you have employees taking items offsite, or if you've been dealing with tools "walking away." Simply pull up the item in question and you can identify who's using it.
5. Track maintenance and service dates
You know better than anyone that proper maintenance will prevent huge repair bills down the road. Missing important service dates on any heavy equipment that's part of your inventory—such as work trucks or pneumatic lifts—can be costly in the long run. Efficient inventory management software allows you to set alerts so nothing slips through the cracks. You should also ensure your inventory software allows you to add service notes for an item in your inventory, so you can refer to it later.
6. Keep up with warranties
You likely have a serious amount of tools and parts with warranties that are difficult to track. A solid auto parts inventory management software will allow you to add warranty information to any tool or part, so in the event of a malfunction, you can replace it speedily and efficiently. 
About Sortly
Trying to manage your inventory the old-fashioned way is like tightening 20 bolts with a hand ratchet—you might get the job done, but the right tool makes it much easier!
Automotive shops choose Sortly's auto parts inventory management software because it's intuitive, efficient, and affordable. Here are some of Sorty's features:
Simple to use:

Sortly

is easy to understand because it works the way your brain does. You don't need to be a "techy" person to figure it out, and you don't need any special training or long manuals to get started. Just download the app and you're set!

Fully mobile

: Sortly works where you work! Access all of Sortly's features on desktop, tablet, or smartphone. Plus, it allows you to give your employees customized permissions to update inventory on their own devices.

No extra equipment required:

All you and your employees will need to scan barcodes is a smartphone or a tablet. If your team prefers external barcode or QR code scanners, those can quickly be synced with Sortly's software.

Customizable alerts:

Never run out of a part again with customized notifications and reminders to let you know when stock levels are running low.

Affordable:

You can have excellent auto parts inventory management software, AND place that big Snap-on order. 
Ready to get your auto shop organized and efficient? Try Sortly free for 14 days.