There are so many apps aimed at business owners available now and to be honest, all of the options and capabilities can be overwhelming. To narrow it down for you, we thought we would share a few of our favorite apps for business success and share a bit about how they work.
Evernote is a program designed to simplify gathering information and enable users to access the information easily. Evernote has a plug-in for Google Chrome, a desktop app, and you can get the Evernote mobile app in the Play Store and the App Store. The reason Evernote stands out from the dozens of note taking apps out there is that they have a superior user-experience and streamlined interface AND extensive organizational features. It can be hard to hit a sweet spot of capability and usability in a way that doesn't compromise either function or ease-of-use.

This one seems obvious, but let us explain why this is on the list: we have tried quite a few video/voice call apps, but it seems like they all have glitches. Google Hangouts seems to be one of the most reliable choices. It has all of the features you need: voice calls, video calls, screen sharing, and chat. The fact that it links up with all of the other Google apps you use makes it a natural choice for meetings, and it is easy for others to create an account with their Google account information. Simple.
Screens VNC is definitely one of those apps that made us say "wow" when we came across it. The app allows you to access your computer from your other devices, no matter where you are. Once you install the desktop app, Screens VNC can securely connect you to your computer via smartphone, iPad, or laptop! It even syncs with your Dropbox and iCloud accounts. To top it all off, they also offer a free app called Screens Express Utility that enables others to allow you to access their computer (perfect for helping out with an issue.) Screens VNC is only available for iOS, but there is an app called VNC Viewer for Android.

Workflow is one of those apps that has so many capabilities that it is hard to explain. Simply put, Workflow allows you to program multi-step actions on your iPhone or iPad, and you can access buttons for those actions in "Widgets." You could, for instance, create a shortcut that attaches the last photo you took to a message or a shortcut to copy all of the information in an email into another document on your phone. This app might take a bit of playing around with to make it work for you, but if you tend to do the same actions over and over, it would definitely be worth trying. This one is also iOS only, for now.
If you work from your phone or tablet frequently and your work involves a lot of images and documents, Annotable will make communicating ideas and necessary edits incredibly easy. There are quite a few similar apps, but Annotable has been featured by Apple in the "Best of 2016" list, the "Best Productivity Apps" list, and several others. The interface is attractive and clean, and it offers a variety of functions including blur, pixelate, highlight, zoom, write, outline, shapes, and more. This is one of those apps that seems less important than it really is: we have learned never to underestimate the value of a simple yet powerful program. Available for iOS only.
Toggl is one of the top time-tracking apps out there. We know you have probably heard about dozens of similar apps, but after testing several Toggl came out on top. If you are a one-person show, need to track billable hours, or just want to see where your time is going, Toggl makes keeping track of time spent really easy. One of the app's best features is the online access. Many of the more basic apps do not include an account online, and other apps we tried only allow you to access stats and track your time from your computer with the paid subscription. Toggl offers access via web and app on their free plan. Another problem with many time-tracking apps is the issue discussed above: the balance of capability and usability. Toggl has both a clean, user-friendly platform and a variety of ways to organize, categorize, and tag your projects. The reports are visually appealing and easy to work with. Toggl allows you to use a tracking function or input time spent manually. Overall, it is a great app that stands out among other time-keeping apps.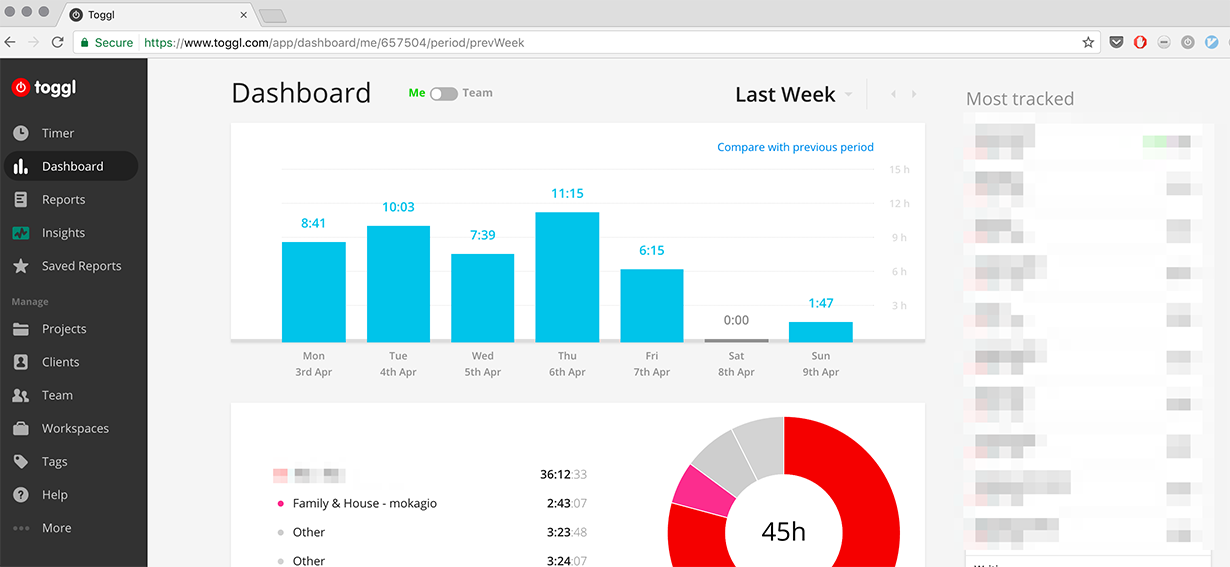 This one may seem like an odd addition to this list, but Bloglovin' is one of the best social bookmarking sites available. Unlike some of the other blog feed sites, Bloglovin' is beautifully designed, easy to use, and offers very high-value content. There are a lot of prominent business and news blogs to follow, and the curate functionality offers a great way to organize and save content for later. It is also a great place to promote your own blog! This app is the perfect place to catch up on content from your favorite companies, find inspiration from other businesses, learn new marketing concepts, and more.
If you are a visual learner, Mindly is a great app for planning and developing ideas via mind-mapping. It allows you to develop ideas quickly and expand on ideas easily. The app itself is beautifully designed and easy to use. It offers an infinite hierarchy of ideas, annotation on any element, many color schemes, and can export the map to a variety of file types (including PDF). Mindly is a great tool for organizing ideas on the fly, or quickly taking notes and impressions from a speech or conversation. Available for iOS and Android.

 9. Adobe Acrobat Reader
This is another basic app that we can't live without. There are a lot of PDF editing apps available, but Adobe Acrobat Reader is the professional gold standard for a reason. You can use this app with a free Adobe Creative Cloud account, which also allows you to store your documents and access them from any device. It also integrates with all of the other main file storage platforms. The app allows you to "scan" images, and you can fill out forms and sign them in the app. You can purchase Adobe PDF Pack in the app and use it to create new PDF files from your phone, and if you want the full capabilities of Acrobat, you can upgrade to a paid subscription. It is available for both iOS and Android.
IFTTT (If This Then That) is labeled "Editor's Choice" in the App Store. It is an automation app like Workflow, but it works with triggers. It can remind you to buy more tape when you are near an office supply store, alert you if the forecast suggests bad weather during your commute, and more. Besides these, "if this, then that" type actions, IFTTT also automates more simple tasks. Currently, IFTTT works with over 500 other apps like Google Drive, Square, Evernote, Slack, MailChimp, and more.
There are a lot of fantastic apps out there that can help boost your productivity and make you more efficient. Running a business is a ton of work, but we are hoping a few of our favorite apps can help set your business up for success and growth this year!
This post was written in collaboration with Catherine McGuire.