Are you still relying on manual record-keeping or spreadsheets to manage your home staging inventory? Inventory software features such as barcode and QR code scanning and label generation can bring your home staging inventory management into the modern world. Here's how using barcodes in your inventory management software can help digitize and streamline your inventory and asset tracking:
1. Reduce manual errors
When reviewing an inventory list, it is, understandably, not uncommon for employees to invert numbers, skip a line, misread words, and make other human errors. That's why digitizing your home staging inventory is essential for accurate tracking. Not only can barcodes drastically reduce this inaccuracy, but it also increases the work efficiency of facilities and departments relying on manual data entry.
Experience the simplest inventory management software.
Are you ready to transform how your business does inventory?
Start a Free Trial
2. Enjoy precision when it matters most
You can't be everywhere at once—that's where your incredible team comes in. But even the best employees aren't mind-readers. When you have many item variants in stock, you can't simply request the "wooden lamp" and expect that your staff will know the exact lamp you're thinking of. When your team is barcode-enabled, one simple scan on a smartphone, tablet or synced external Bluetooth scanner ensures a team member can locate the right item every time. This can help your team save time and frustration.
3. Access instant inventory info
With inventory and asset tracking software, you can easily access your entire visual inventory from any device. This can come in handy when you're on a project and you need to know how many, say, chaise lounges (or barstools or sets of curtains) you have in stock to use. You can check your full, visual inventory at the touch of a button, which makes your job much easier and helps you deliver the right look for your clients.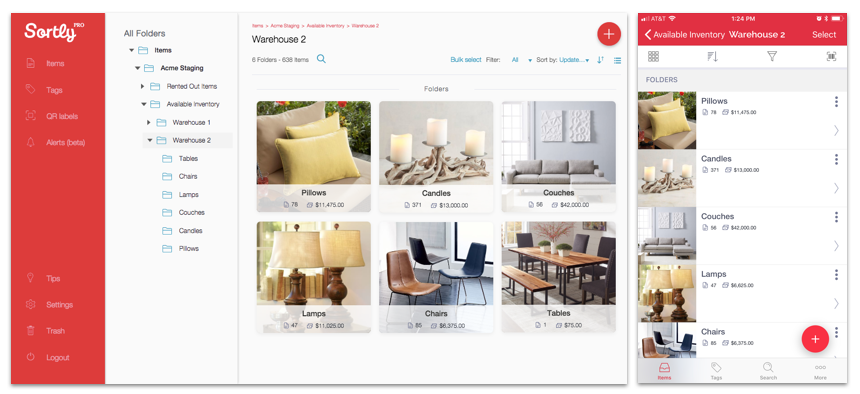 4. Scan barcodes and QR codes from your smartphone, tablet, or external scanner
The ability to manage your inventory on the go is a must for busy home staging professionals. When you use Sortly's simple inventory software, you can scan barcodes using just your smartphone right from the Sortly app or with a synced, external Bluetooth scanner. 
5. Generate customized barcode or QR code labels
If you have items without barcodes, there's a solution. The Sortly app allows you to quickly and easily generate barcodes and QR codes that can be printed right onto standard-size adhesive labels. There's even space for item names and notes. Simply stick them somewhere accessible and inconspicuous on each item, and you're ready to scan.  
6. Make inventorying a streamlined, simplified process
Don't interrupt that creative flow! Using barcodes, you can scan items as you load them into the truck OR as you place them in the home. No sitting down at your computer to update a cumbersome spreadsheet hours (or even days) later. And when it's time to load everything back up, scanning items back out onsite means no hand towel is left behind.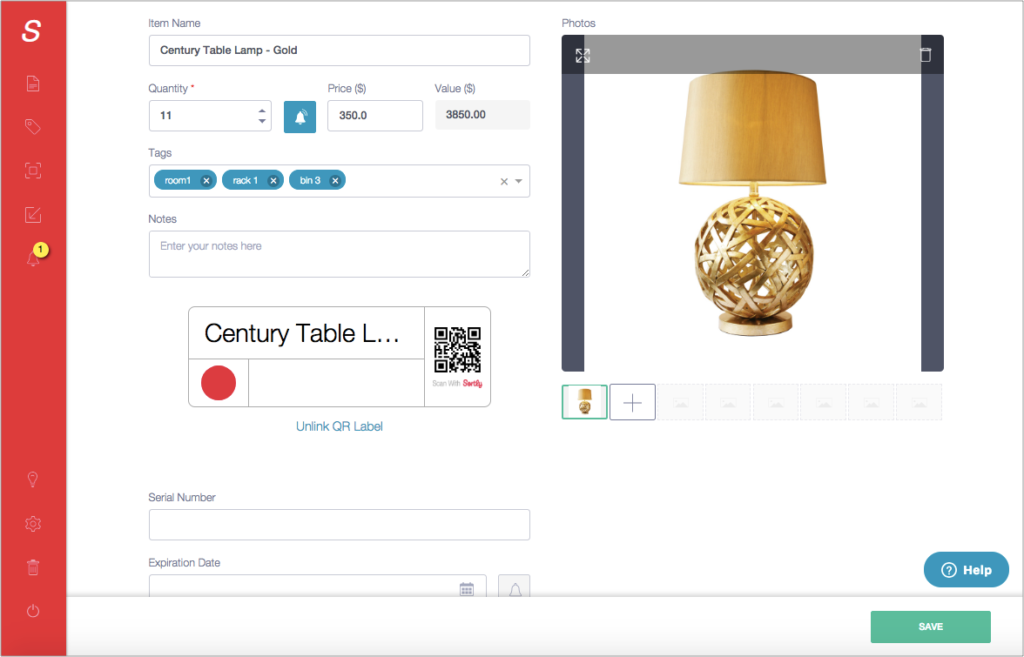 About Sortly
Sortly is a simple, visual inventory and asset tracking system that enables you to track all your items and any of their details, including quantity, price, condition, location, and more. It's an easy way to track your home staging inventory across multiple locations and projects. Ensure you always know where your home staging items are, who has used them, and what condition they're in—right from your smartphone or tablet.
Get started today. Try Sortly free for 14 days.
Download Sortly free on iOS and Android: