If you run a construction company, general contracting co, or service pro, your inventory is everywhere: in the backs of trucks, in warehouses, in clients' garages, in storage units. When it comes to tracking construction inventory, the world is your job site.
Luckily, there's a simple, mobile software solution. A construction inventory management system can help you cut losses and improve your delivery times. Here are nine proven ways Sortly can help your construction or general contracting company streamline inventory operations:
1. Know What Materials And Supplies You've Got In Stock
Inventory is a constant balancing act. Where's that sweet spot between not having enough equipment and materials to get a job done, and having way too much? Stocking some excess equipment prepares you for unexpected problems on a job site. But too much extra equipment means money down the drain. 
Experience the simplest inventory management software.
Are you ready to transform how your business does inventory?
Start a Free Trial
Instead of over-ordering for those "just-in-case" scenarios (or buying items you already have because you forgot you already ordered it), simply check your smartphone for real-time information about what you've got and where it's located.
With Sortly, you'll enjoy a highly visual inventory of all your items and instant access to item details, all easily accessible via phone, tablet, or traditional computer. Plus, an in-app barcode scanner makes searching for items and updating inventory effortless. With Sortly, you'll always know exactly what's on hand and where it is. Imagine: every piece of plywood, every can of paint, every precious spool of copper wire⁠—accounted for, without hours of inventory tracking time.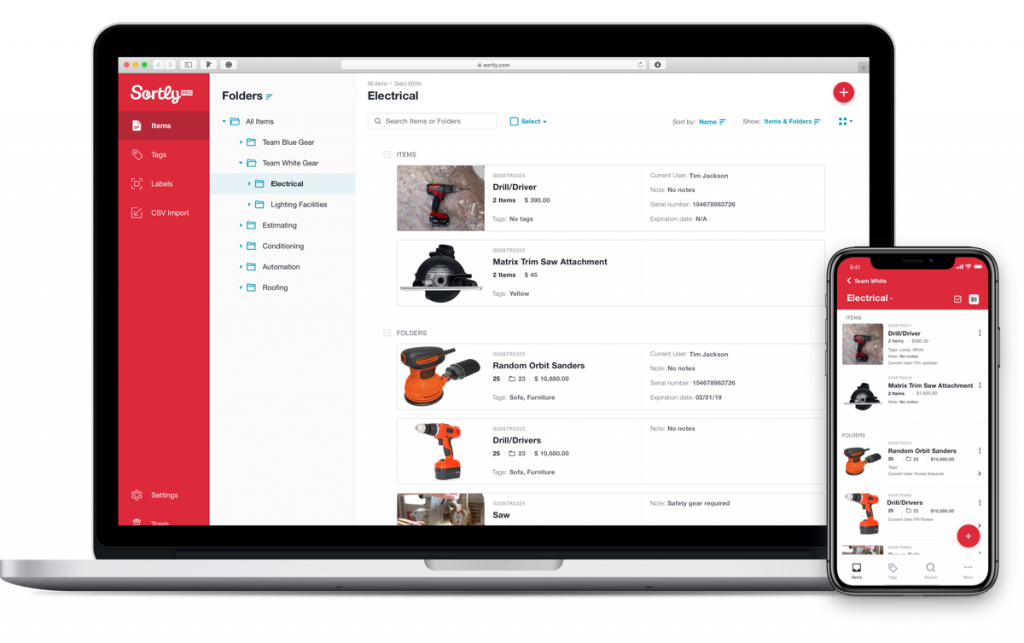 2. Easily Keep Tabs On Supplies Across Multiple Job Sites And Storage Locations
Working in construction is not a regular office job. You can't just open the supply closet and tally it all up. You've got stuff all over town, in multiple trucks, at multiple job sites.
Can't remember which site has the paint sprayer? Just grab your phone and do a quick search. Didn't you have two more boxes of this ceramic tile sitting somewhere? Scan the barcode and find them right away. Sortly makes it easy for construction workers on the go to manage their supplies, equipment, and more.
3. Get Alerts When Supplies Are Running Low
One of the best things about our construction inventory management system is its ability to warn you before you run out of a given product. With Sortly, you can set low inventory alerts (via email or in-app notification) that'll remind you the minute you need to reorder an item. That way, you can buy the things you need at the right price from your preferred wholesalers.
4. Track Which Employees Are Using What
Your crew needs easy access to materials to get the job done fast, but you don't want to be on the phone constantly micromanaging each request. Too much oversight is extremely time-consuming, and too little oversight can result in equipment taken to and from job sites with no understanding of who has it or why.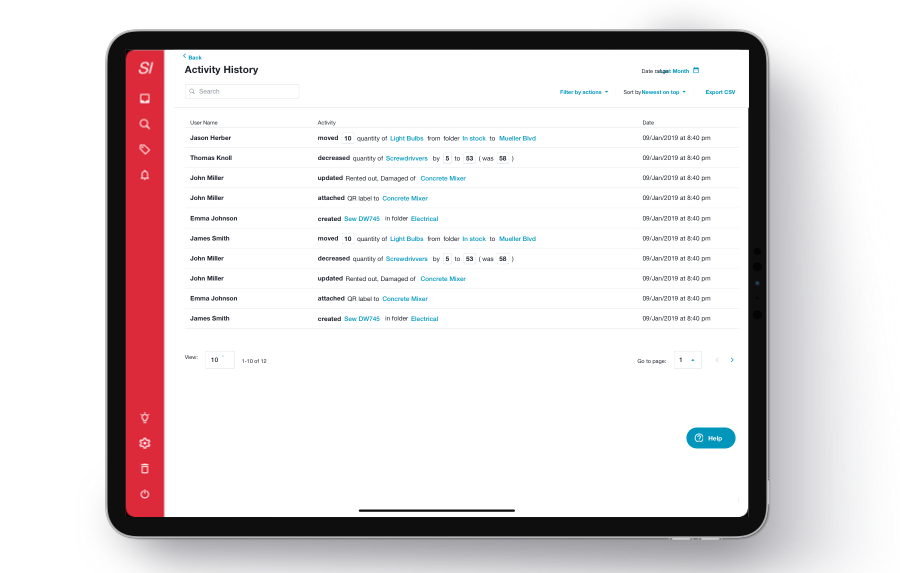 With Sortly, you're able to give your crew access to barcode scanners and inventory details. They can scan equipment in and out as needed using a smartphone, and it's easy to tell which registered user is checking out any given item. This helps reduce human error, and increases transparency across your team. Having the right construction inventory management system means you aren't spending time worrying about who has what tool, and your crew can get their jobs done faster. 
5. Reduce Inventory Errors with Barcodes and QR Codes
Mistakes happen. But when your team shows up to a job site with the wrong shade of white paint, time and money are wasted. Fortunately, Sortly offers free, simple barcode and QR code technology that can eliminate such mistakes.
Use the existing manufacturer's barcodes on your inventory, or create and print QR codes for your products as needed within Sortly. Then, simply scan an item with your smartphone or tablet for more information, like expiry date, price, location, and more.
6. Get The Whole Team Organized
Sortly can be used by one employee, or by an entire team. You can even share it with clients or vendors.  You and your team can use the devices you already have: smartphones, tablets, and computers. Plus, you control the level of access of every registered user, from read-only and restricted privileges to full-on administrative ones. Sortly also makes it easy to export and print inventory reports, so you can share externally with the touch of a button.
7. Train Everyone In Minutes
Our intuitive inventory management software isn't just easy to use; it's a breeze to learn. In just a few easy steps, you and your team can be up and running, with no training or manuals needed. It was built to work just like your brain does. The easier a system is for your employees to use, the more likely they are to actually use it.
Plus, Sortly's seamless inventory system was created with small businesses in mind. It has everything you could ever want or need but isn't stuffed with unnecessary features that only benefit large enterprises.  
8. Visuals For Everything 
Because our inventory is powered by photos, you won't have to rely on confusing text to demonstrate what you've got in stock. In fact, you can assign each inventoried item up to eight photos. It's a great way to organize your physical inventory.
With the click of a button, search of a word, or scan of a barcode, you can pull up beautiful, high-resolution pictures of your items and make updates in seconds.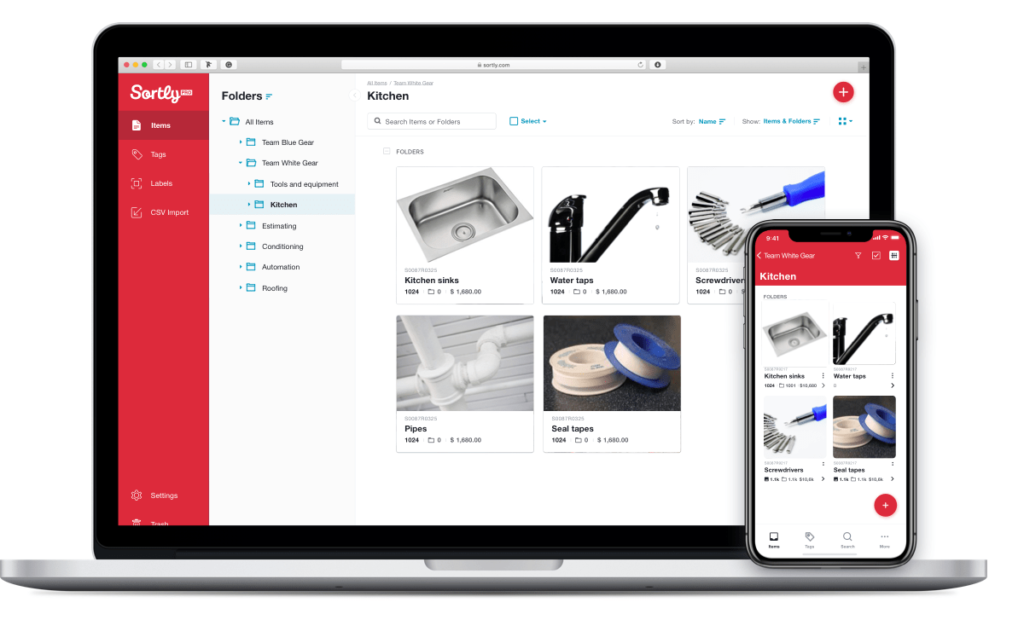 9. Stay on Top of Important Dates
Return dates. Expiration dates. End-of-warranty dates. These are the little details that turn into a whole lot of dollars lost if you don't have a system in place to stay on top of them. Luckily, Sortly can manage all this information for you, reminding you as important deadlines approach. That way, you'll have time to rotate stock, extend a warranty or send a reminder for a return.
More About Sortly Inventory Management Software
Efficient inventory tracking is a must for construction companies and service providers. If your business would benefit from improved inventory management, consider switching to Sortly today. Sortly lets you organize, track, and manage your inventory—from any device, in any location. Our easy-to-use mobile app lets you and your team update inventory on the job, scan barcodes from your smartphone, set low stock alerts to remind you to re-order, and more. That means you can work more efficiently, plan for jobs better, and serve your customers to their highest satisfaction.
Join the over 20,000 construction professionals who trust Sortly as their inventory management solution and start your free 14-day trial.
Download Sortly free on iOS and Android: