Inventory management may feel like a small component of your bustling business. But the truth is, it plays a pivotal role in your operations and your profit margins. Almost all business sectors, from construction and healthcare to automotive and design, rely on inventory management software to provide excellent service and achieve optimal profitability. Here are a few of the most popular inventory management challenges—and how the right inventory software can help solve them.
Inventory Management Challenges
Having an excellent inventory management system benefits just about every area of your business, while a poor inventory management system does the opposite. Here are the key inventory management struggles faced by business owners:
1. Overstocked items and stock shortages
Knowing how much (or how little) of a product you need to meet demand is one of the central challenges of inventory management. Not properly ordering the right amount from suppliers can lead to stockouts or even stock surpluses. In either case, it leads to inefficiencies and reduced revenue for your business.
Stock surpluses tie up your capital in inventory that you aren't using. If you work with inventory that expires or becomes obsolete very quickly, the costs of overstocked items are even greater. Additionally, the storage space required for the overstocked items contributes to higher overhead costs. 
The negative effects of inventory shortages are more obvious. First of all, your customer service is impacted as you are unable to fulfill demands as expected. Secondly, replacing an item in a pinch usually requires a marked-up purchase at a local store or a hefty rush-shipping charge. 
Proper inventory level tracking also allows you to accurately bulk-order items, achieving a lower cost per unit without the risk of unused inventory. Sortly inventory management app even sends you low stock alerts, which takes the guesswork out of knowing how much to order.
2. Lost, damaged, or stolen items 
Without a detailed inventory management system, it is nearly impossible to track an item as it changes hands in day-to-day operations. Construction contractors, for example, are likely to have several crews at several different sites using dozens of pieces of equipment each day. With so much going on, it's not uncommon for items to be left behind at a job site, or even to "walk away" with an employee. What's more, items and equipment can be damaged on the job with no explanation or accountability.
Meticulous inventory management is necessary to reduce or prevent these situations from occurring. With the right software, you can gain oversight of your inventory without babysitting each piece of valuable equipment.
3. Wasted time
You've heard the phrase "time is money", and that's never truer than when your business begins to grow. There is nothing more valuable than your time, which is why spending too much time on inventory management can feel like a waste.
The "inventory time drain" comes in many forms. Maybe you're in your warehouse manually counting your stock for two days straight. Maybe you spent your day going store to store, looking for something you failed to order in a timely fashion. Or maybe you poured over spreadsheets for hours tracking thousands of dollars in inventory manually.
Solid inventory management gives you more of what you need most: time. Time to spend face-to-face with clients, time to work on marketing, time to get out of your back office and into the action. Knowing where your stuff is and how much of it you have is a game-changer.
4. Costly inaccuracies
We all make mistakes. Some mistakes, like manually entering a UPC code into a spreadsheet incorrectly, can be chalked up to human error. Other mistakes, like miscalculating a project cost because of inaccurate inventory counts, are more serious. In fact, the average U.S. retail operation has an inventory accuracy of only 63 percent. Fortunately, many errors are preventable with the right inventory management software.
A modern inventory management system reduces inaccuracies at every step of the inventory process. For example, manual errors are prevented by allowing for barcode scanning. A project's costs and time requirements can be more accurately predicted when you are certain of which equipment and materials you already own, and what needs to be ordered. You'll spend less time searching for transposed numbers in your spreadsheets and you'll be able to meet your clients' expectations with confidence. 
5. Difficulty getting employees to use your inventory management system
Even your most dedicated employee doesn't have the same concern for your bottom line that you do. Not to mention, most members of your crew are focused on executing their duties quickly and efficiently. These aren't bad qualities, but they do cause employees to put less time and energy into complicated, cumbersome inventory management strategies. 
For example, if your system requires employees to stop at the computer to update records each time they use an item, they are likely to skip the step if they're in a hurry to serve a client. In this scenario, either your inventory management system suffers, or your customer service does. Without a streamlined process, you're between a rock and a hard place.
How Effective Inventory Management Software Can Benefit Your Small Business
If you want to manage your small business's inventory in the best way possible, you need the right software. Here's how Sortly's inventory management app features can solve your inventory challenges.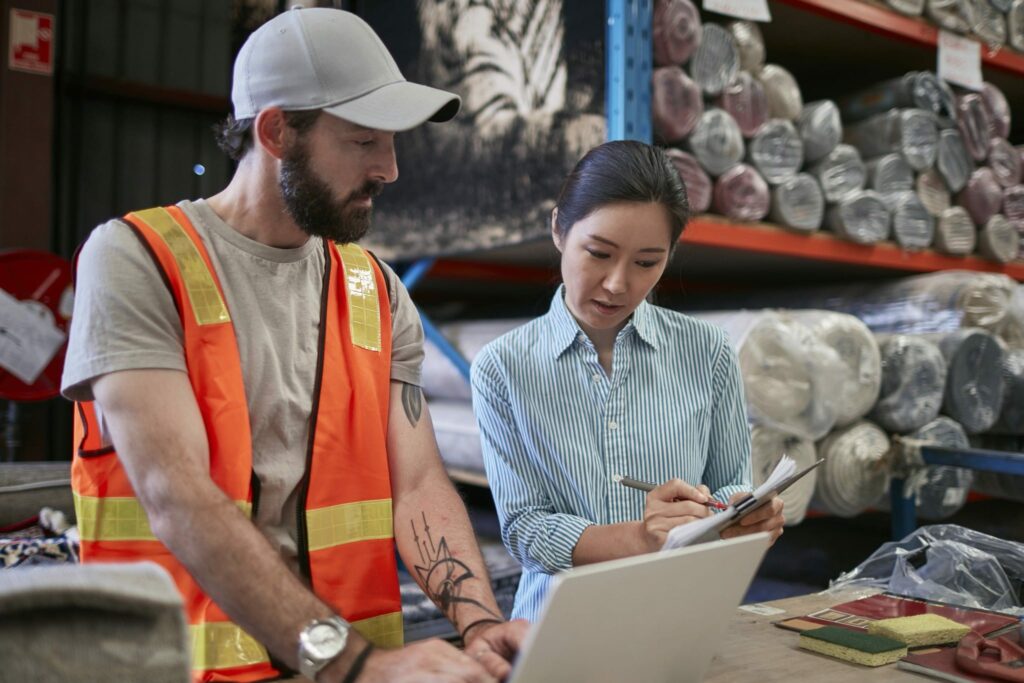 1. Replace old-school spreadsheets with intuitive, functional inventory management software
When it's time to organize data, many business owners go right to the spreadsheets. It seems like a great option, right? You can add tabs, customize your fields, search through it, but it doesn't take long before the spreadsheet becomes your beast of burden. Here are the pitfalls of the inventory spreadsheet system:
Ample opportunity for manual errors
Tough and time-consuming to audit and analyze
Doesn't track changes over time: as you update quantities you lose valuable data showing how inventory levels have changed (daily, weekly, seasonally, etc).
In your head, inventory management is simple. You need the right amount of the right stuff, without running out, and you need to know where it is and who has it. Some software has a way of making that much harder than it needs to be. 
Ideally, your inventory management software should work a lot like your brain: easy to audit, sortable by location, and always up-to-date. You need inventory software that's fully customizable and scalable, and super simple to use.
2. Coordinate multiple locations with integrated software
As your business grows, you'll find your inventory spread across multiple locations and project sites. Trying to coordinate so many locations (and so many people) won't just give you a headache, it will make your brain explode. Ok, maybe that's an exaggeration, but these pain points are all too real:
No access to real-time inventory: If you need to visit and audit each location yourself (or have an employee do it), you will spend the majority of your time with outdated records. Without accurate inventory counts, delays are inevitable. 
Difficulty synchronizing your strategy: Too many cooks in the kitchen can be problematic, but you may find yourself with a bunch of cooks in a bunch of kitchens and no clue how to get everyone on the same page. In an area of business where consistency is key, this causes major problems.
Lack of locational analysis: Without modernized

inventory management software

, you miss out on valuable location-specific details that could hinder your operations. For example, is one location experiencing a higher rate of stock loss or equipment damage? Does one site need more or less of a certain item than your other sites?
Sortly inventory software is designed to help you keep tabs on remote and always-on-the-move inventory. Whether your stock is in storage units, garages, trailers, or closets, you can easily sort and search by location to ease logistics and streamline your inventory management strategy.
If your business model benefits from knowing who has what, and what condition the item is in, the right inventory app can keep you informed. Track the user history of an item and document condition with photos and text.
3. Access a fully mobile inventory wherever, whenever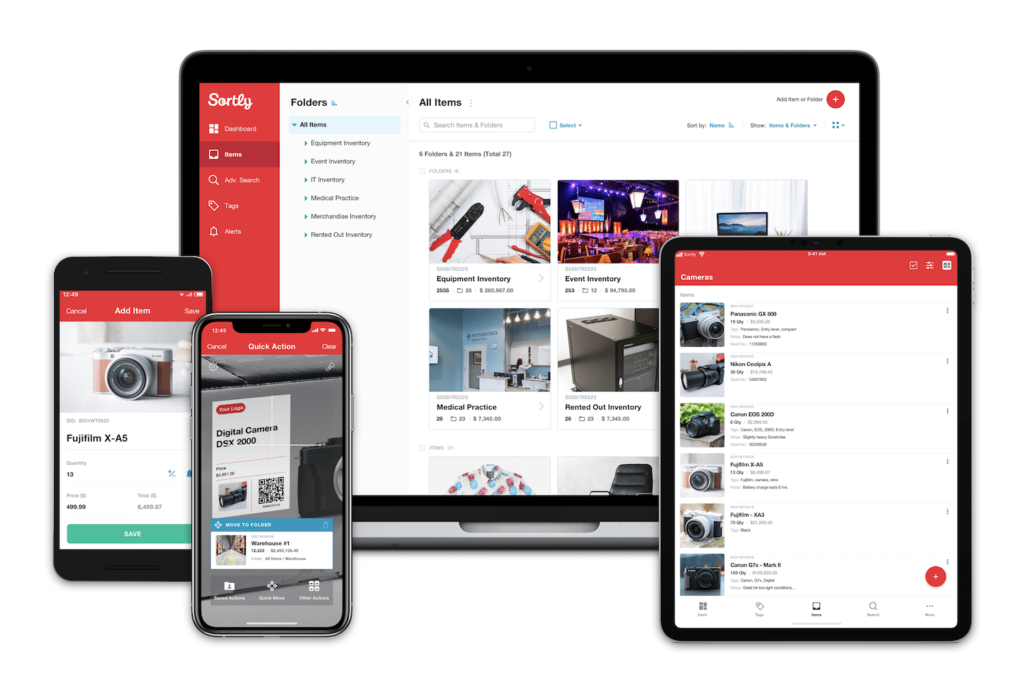 If your software requires a desktop computer for full functionality, you'll run into a whole host of problems. You'll have to spend a large chunk of your time stuck behind your desk instead of out running your business. Your employees will often be unable to follow inventory management protocol without delaying service to your clients. Out of the office and need to check stock levels or item locations real quick? You're outta luck.
Your inventory app should be cloud-based and useable wherever you are, on whatever device you have handy. Sortly has full functionality on desktop, tablet, and mobile. It goes where you go and works where you work. 
4. Use a lightning-fast barcode inventory system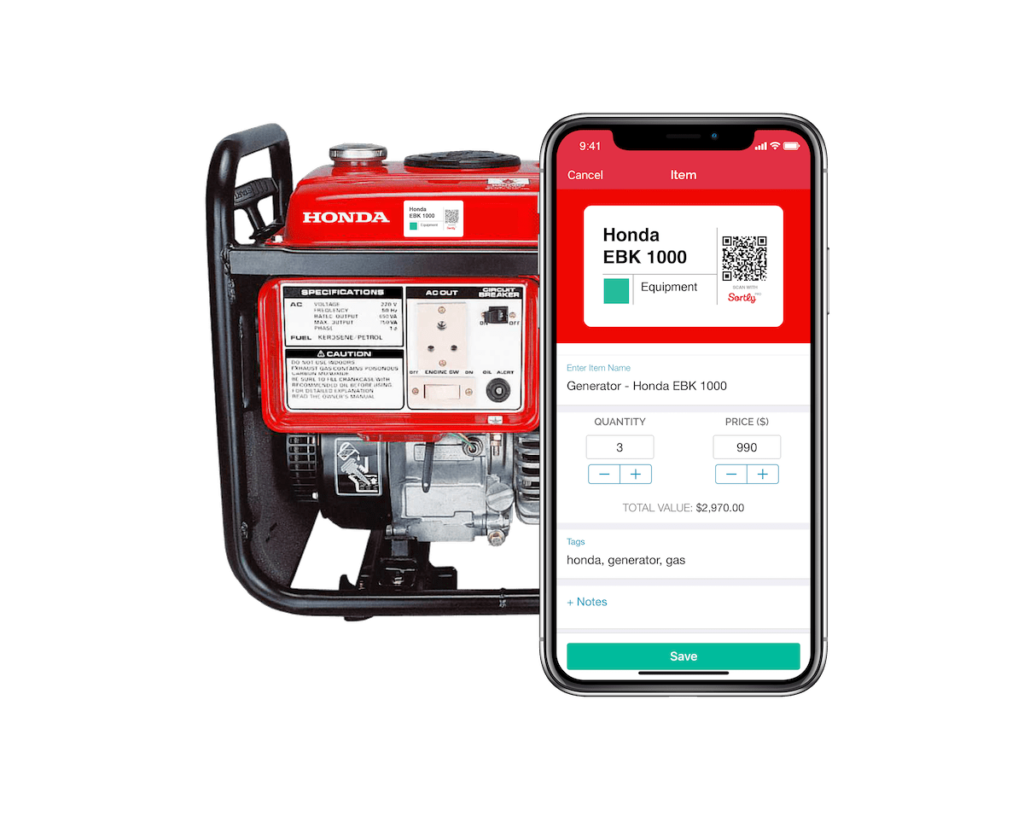 Odds are good that most of the materials and equipment you use already contain barcodes, the best identification method around. Your software's barcode inventory system should allow you to scan existing barcodes and create unique codes and labels for any item that needs one.
Choose a barcode inventory system that allows your team to scan barcodes and QR codes using an in-app scanner or an external Bluetooth scanner. That way, your team can decide whether they prefer to manage inventory using smartphones and tablets alone or with the help of a traditional barcode scanner. 
No matter what your team decides, Sortly's inventory app allows you and your employees to scan existing barcodes, which improves accuracy and reduces time spent on inventory management. If necessary, you can create and print unique scannable labels and QR codes for unlabeled stock. However you scan your inventory, learning more about an item is fast and accurate. 
5. Find the right balance between features and simplicity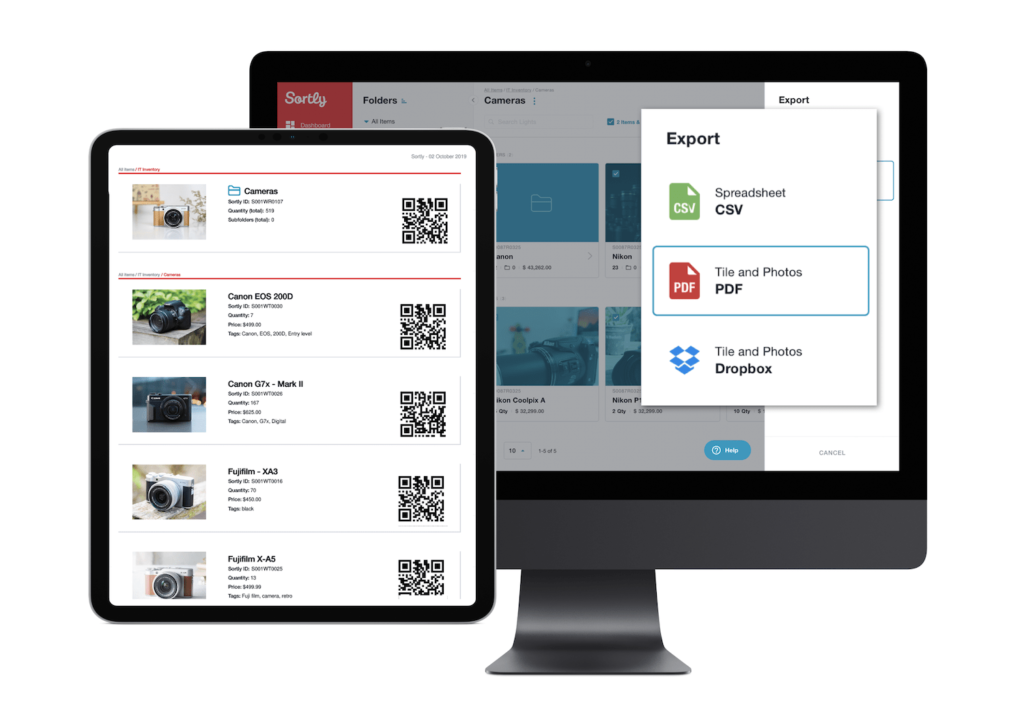 Even businesses within the same industry can have totally different inventory management needs. Any limitation within your inventory management software impacts your bottom line and your growth potential. On the contrary, some inventory management software can be overcomplicated. 
A reliable red flag that your software might be overly complex is if it requires special training, lots of calls to customer support, and hours staring at the manual. Inventory management is intricate, but your software doesn't have to be convoluted.
Choose an inventory app that won't require any lengthy sales visits or a 100-page guide. There's no reason to settle for anything that you can't have up and running in minutes, all on your own. 
With Sortly, a completely intuitive inventory management app, even your least tech-savvy employees will enjoy these must-have features: 
A visual inventory

: Images help you think and plan. They help clients visualize your proposals. They help employees identify the right materials required for the task at hand, especially when many items have similar names. 

Customizable alerts:

There's no reason to run out of an item you need or to miss a warranty or service deadline. Set custom alerts so that you're always one step ahead of your ever-changing inventory.

Easy-to-use reports:

Your inventory information is valuable in creating order sheets, audit lists, training manuals, or even gorgeous proposals for your clients. Export totally customized CSVs and PDFs with the click of a button.
Ready to give Sortly a try? Get started with a free trial today.