Poor inventory management is like a disease in the roots of a tree. You can see the impact in the leaves and branches, but the cause is deep below the surface. Here are six inventory questions frequently asked by small business owners like you—and how to answer them with a streamlined landscaping inventory management system.
1. How can I track my ever-changing inventory levels with a landscaping inventory management system? 
Have you ever ordered a new part for a piece of equipment, only to find out later that you already had one sitting in one of your storage units? Have you run out of sprinkler pipe halfway through a job when you thought you had plenty in the trailer? 
These may seem like somewhat small inconveniences, but the costs add up. An extra mower part requires putting money into something you may not need for a while. Running out of pipes mid-job requires a trip to the local hardware store to buy marked-up product. The good news is, these situations are totally preventable. Your landscaper inventory management software should do the following:
Report inventory levels

: You should be able to look up an item in your landscaping inventory management system and immediately find out how much of that item you have in stock

Provide inventory location

: Great software tells you exactly where your stuff is, so your crew doesn't spend time digging through the shop for an item that is actually in a trailer at a jobsite. 

Alert you when stock levels are low

: You shouldn't have to manually audit your entire inventory every week for ordering purposes. Your software should allow custom stock level alerts so you know you're low on fertilizer before you run out halfway through a job! 

Assist with accurate job costs

: Superb inventory management allows you to price a job out swiftly and correctly. Will you need to buy new materials? Do you have the right equipment? All of that is a click away when you're using the right software.
2. How can I manage my inventory across multiple storage locations and job sites? 
What started with a lawnmower and a lot of hard work has turned into a thriving business with equipment and materials spread around several locations. Just getting the right stuff to the right place at the right time can take up your entire day. 
To coordinate so many locations, you'll need a landscaper inventory management system that allows you to organize items by site and quickly, easily update the location of your stock as it moves from place to place.
3. How can I reduce equipment loss and theft?
Without a consistent inventory management system, you likely have minimal oversight as to who has your equipment. On one hand, you need to know which employee is using what. On the other hand, you don't want to make it overly complicated for your crew to grab the tools and materials they need to get their jobs done quickly and efficiently.
To strike the right balance, you'll need intuitive inventory management software that is hassle-free for your employees and requires no special technology or equipment. If your employees can easily check equipment in and out, you'll know exactly when and why your inventory changes hands.
4. How can I use an inventory management system to keep up with product warranties and equipment repairs?
Picture this: you bulk-order a huge amount of plants at a great place. After keeping some in stock and using some of it for design projects, ALL the plants fall victim to a disease and die. Sounds like a disaster for your bank account AND your reputation, but if you have a great inventory management system in place, it doesn't have to be so painful. 
Your inventory management software should store details like where the plants were purchased and associated guarantee information. With a great inventory system, you can  even find out which projects used the doomed vegetation and proactively remediate the situation for your clients.
Another useful benefit of implementing a landscaper inventory management system is that you'll be able to set service schedule notifications for your equipment and machinery. Additionally, inventory management software will allow you to access service records without digging through your filing cabinet—or your trash can.
5. How can I avoid spending hours each day on inventory management?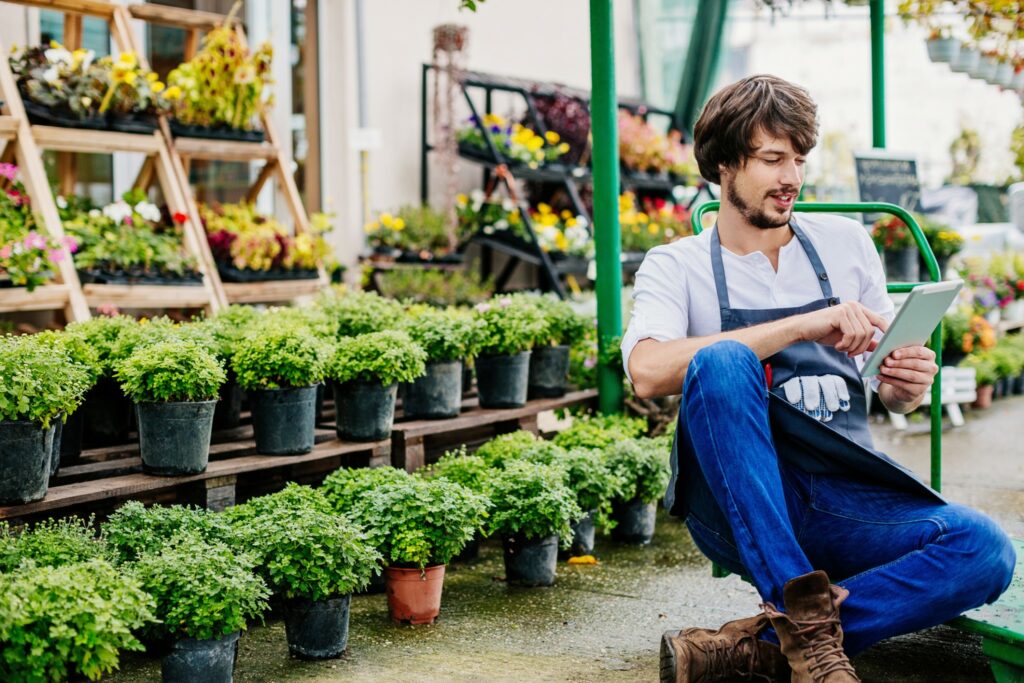 You didn't get into landscaping because you just love sitting behind a desk staring at a computer all day. It's a major bummer when inventory takes over your days and you barely step outside during working hours.
The solution is simple: an intuitive landscaping inventory management system. You'll just need to lay the groundwork (pun intended!) by loading your inventory into the system… your software will do the rest. 
6. How can Sortly help?
Sortly is a super simple inventory and asset tracking system that enables you to visually track all your items and any of their details including quantity, price, and condition. Here are a few reasons that landscaping industry business owners choose Sortly:
Sortly is easy-to-use and intuitive. We designed Sortly to work like your brain does—so you'll intuitively know how to use it. Sortly is totally customizable and scalable to meet your unique inventory needs, whether you're tracking lawncare equipment or piles of mulch. There are no long manuals to read or technical training required, so you'll be up and running in no time.
Sortly is completely mobile. Our app works on desktop computers, tablets, and phones. You can manage your inventory remotely, rather than carving out office time. Set access permissions for your crew so they can make inventory updates on the job, as needed.
Sortly uses existing barcodes to track your items. Use your smartphone to scan barcodes and instantly upload label information to the app—no special equipment needed. Barcodes save time and prevent manual errors, streamlining your inventory management system. You can even use Sortly to create custom scannable labels for items without existing barcodes.
Sortly saves time and money by setting alerts. Instead of running weekly inventory audits, set stock alerts that tell you when it's time to order new materials. Add reminders so you don't miss service dates and warranty deadlines.
Sortly unites your crew. Because Sortly is simple to use and requires no special technology, it's easy to onboard your employees. By making it hassle-free to check items in and out, record material usage, and document equipment moves, your team is much more likely to proactively contribute to the inventory management process. Sortly makes it painless to implement great inventory management practices company-wide.
You wouldn't terrace a hill with a hand trowel. The right tools make all the difference between struggle and success. Discover the difference and give Sortly a try today for free!