What healthcare provider doesn't want to see his or her business run more efficiently? After all, a well-run practice usually means increased revenue and happier, healthier patients. In the past, providers relied on smart hiring and organized employees to ensure their practices operated smoothly.
But today, it takes a thoughtful blend of solution-based technology and old-school morale boosters to really make your medical office more productive without sacrificing the quality of care and patient experience.
From online appointment scheduling to better inventory practices, read on to discover ten proven ways to boost your medical practice's efficiency.
Experience the simplest inventory management software.
Are you ready to transform how your business does inventory?
Start a Free Trial
1. Enable Online Scheduling
There's perhaps no better way to lessen the workload of your administrative staff than with on-demand, 24/7 online scheduling functionality. Here's how a simple "Book an Appointment" button can streamline operations for your front desk:
Your administrative team, no longer picking up phone calls every minute of the day, can focus on the task at hand and help patients who are physically in the office.

Your patients who do need to call the practice to ask important questions enjoy little to no hold time because the phones are not ringing off the hook with appointment requests.

Your front desk staff needn't worry about scheduling errors or playing phone tag with appointment-seeking patients who call after hours or during lunch
As an added bonus, you'll likely find you attract new, young patients with this feature. Why? Well, many millennials don't like talking on the phone. They'll feel confident booking their appointments without having to say a word.  
Another benefit: You'll score new patients around the clock and keep returning patients coming back for more. In an era of Postmates-style instant gratification, many patients don't want to wait for what they want or need. If they have to hold off until morning to book a slot, they might choose another provider who offers instant appointments. Consulting wiz Accenture estimates that by 2019, 64% of patients will be using online scheduling.
Online scheduling can be set up on websites like Yelp and Zocdoc. But for extra points, enable online booking on your own website, too. Healthcare marketing companies like PatientPop specialize in helping practices get online and get modern. Or you can chat with your web developer about how to integrate online booking on your website independently or with certain plugins.
2. Provide Text and Email Reminders and Confirmations
If you're going to offer online scheduling, then you're already committing to drastically reducing time wasted on the phone by your front desk staff. Why not go the extra mile and really commit to boosting productivity by adding automated appointment reminders?
While every integration is different, here's how these automated reminders generally work:
A patient books an appointment online (or on the phone) and provides a cell phone number or email address

A few days before the appointment, a message is sent to that patient prompting her to confirm the appointment by replying to the email or text with a one-word answer like "yes" or "no"

If the patient confirms, a second automated reminder is sent out with customized details about co-pays, parking, picture ID and so on

If the patient cancels, a link to reschedule online is provided

About 24 hours before the appointment, confirmed patients receive a final reminder.
The benefits to this automated communication are tremendous. First of all, it gets your employees off the phone and back on task. That alone makes switching to automated appointment reminders a no-brainer. Those days of expensive, inefficient phone tag are over. Many patients are at work or busy with their children when your front desk calls to confirm an appointment. Your admin might have to call two or three times before she reaches anyone. That's just a waste of time.
And secondly, remember, this isn't just helpful to your practice. Your patients will be glad you made the switch, too. They can respond at their leisure and refer back to the information at a later time if they forget any appointment details.
Lastly, because your appointment confirmations will be easier to access, you'll likely experience a drop in no-shows that waste your practice's time and money.
3. Modernize Your New Patient Paperwork Process
How much paperwork does a new patient complete prior to his first visit with you If you're literally giving out homework to your newest patients, then why not let them do that work at home?
Put those forms online or email them out to new patients in advance. Even if only half your patients take the time to complete these ahead of time, you'll still shave minutes off every one of those visits. Your time is valuable, and so is your patients'.
4. Invest in a Better Break Room
Workplace burnout is real, and it's bad for both your employees' health and your practice's profit margins. 
Investing in a relaxing, inviting break room will give your employees a place to unwind and reenergize so they can keep their productivity sky-high all day long. And you don't have to spend a fortune. For now, just consider taking on one or two of these tips:
Pick out a small loveseat or sofa for quick power naps

Order a single-brewer coffee machine to help your team beat the 3 o'clock slump

Encourage employees to bring old books and magazines to work to create a communal library

Consider buying an oil diffuser to create relaxing, multisensory experiences for employees
You can also ask your own team members what features they'd like to see in the break room.
5. Cross-train Your Employees
Cross-training is tough because it requires initial investment and, well, there's a learning curve. But if your best front desk administrator calls out sick, you're going to want a well-trained employee to be able to fill their shoes. And that's going to require a little work.
Here's a blueprint for a four-point cross-training process:
Make it clear that your practice values a culture of flexibility and teamwork

Mandate that each employee cross-train a colleague to cover all of her duties

Test out cross-training with dress rehearsals where employees cover each other's desks

Allow employees to tell you where their training is falling short so you can make improvements
While the process may seem daunting and expensive at first, it's likely well worth it. Try to get as much training in as possible during slow times, like midsummer or between Christmas and New Year's.  
6. Don't Be Afraid to Delegate
In a busy practice, it's just not practical for busy providers to do everything all by themselves. Sometimes, the key to getting everyone—including yourself!—home on time is smart delegation.
Many providers shy away from delegation because they don't want to give up control of their practice and they don't want someone else to drop the ball. That's completely understandable. But if you believe in your hiring process, you can learn to trust your team while optimizing practice operations.
Entrepreneur offers five tips to becoming a top-notch delegator:
Carefully consider the tasks you delegate

Delegate based on the strengths, responsibilities, and career aspirations of a given employee

Take the time to teach employees how you wanted delegated tasks completed

Once you've delegated, let go

Accept that no employee will perform perfectly right away
You can always start small: Ask your RNs to call patients when normal test results come back from the lab. As your employees prove they can handle more and more, keep on delegating.
7. Look Into Secure Messaging Systems
Secure online communication, like online scheduling and automated appointment reminders, can shave hours off your support staff's workdays—and yours, too. Think of all the reasons a patient might currently call your office besides to request an appointment: medical question, prescription refill request, medical records request, referral question… That's a lot of lengthy phone calls bogging your front desk down.
Imagine if those questions were asked online instead, and you could simply sit down once or twice a day and answer all of them at once, with no wasted time or interruptions. With a secure communication system, you can efficiently exchange messages with your patients on your own time. And unlike regular email, these secure platforms offer the HIPAA compliance you need.
Messaging systems don't just exist for patient-doctor communication, either. There is HIPAA-compliant software that allows doctors, RNs, MAs, and front desk staff to chat seamlessly all day. 
Ask your IT team for a referral or research some HIPAA-compliant messaging systems.
8. Use Automation to Reduce Workload
Still sending out test results via snail mail? Even if you or your team calls patients with normal test results, providing them with hard copies takes time and money. Save resources by again looking into a secure messaging system that allows you to send not just messages but also enables you to digitally share charts, referrals, and test results, too.
Healthcare technology is a rapidly growing industry that gets smarter every day, so there are a lot of options out there. Most good businesses will be happy to provide you will all the information you need to really consider their product, so go ahead and reach out to a few vendors.
9. Modernize Your Inventory Practices
If you're like most medical practices, your office is knee-deep in medical equipment. From syringes and saline solution to tongue depressors and tuning forks, practices like yours are spending a lot of money on supplies—and a lot of time accounting for those items, too.
If your employees are doing inventory by hand on a spreadsheet, then they are almost certainly frustrated with how they keep track of all these items. Some inventory is stashed in various exam rooms; other supplies are in a storage closet. And some equipment might be on auto-ship, whereas other items might require a special order placed weeks in advance.
If you're serious about improving productivity and reducing unnecessary spending at your practice, consider switching to inventory management software like Sortly. Thanks to advances in modern technology, good inventory apps are inexpensive, easy to use, accessible from any device, and constantly syncing. Plus, standout inventory apps will even alert you when stock is low, products are expiring or supplies need to be replaced.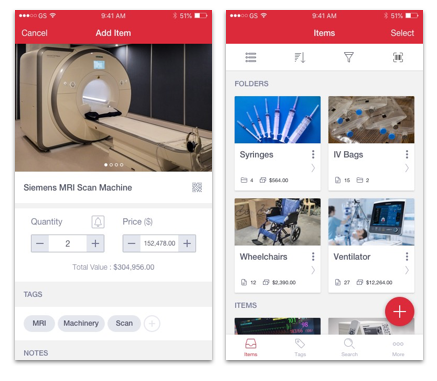 10. Discover and Solve Real Problems
With all these high-tech healthcare hacks, you might be surprised that our tenth and final way to improve your medical practice is so humble. But here's the thing: the best way to find out about the hurdles your employees face is to ask them.
Here are some ways to get to the bottom of what's bottlenecking your team:
Schedule a monthly meeting and ask each team member to offer one suggestion to improve productivity

Ask employees one-on-one about their biggest in-office challenges

Encourage your team to share success stories and best practices they've discovered on the job
Remember that productivity, like most things, isn't linear. There will be little dips and surges as you and your team work through new processes and optimize daily operations.
About Sortly
Sortly is a simple, mobile inventory and asset tracking system that lets you visually manage all of your medical practice's stuff. Our intuitive app enables your team to track just about everything from anywhere and gives your business instant access to inventory details like item location, stock level, price, and condition. Sortly can help you not only keep track of your items but can help you order the right amount every time with features like low stock alerts and minimum order quantities. Track supplies, medical equipment, vehicles, and more—even across multiple locations.
Sortly is intuitive; we built it to be up-and-running in minutes–so you can spend less time on inventory and more time with your patients. Check out this short video of how Sortly works and try Sortly for free today.