Doctors' offices, medical practices and hospitals have many goals, but only one true mission: to put their patients' health first. Everything else, no matter how important, can turn into a major distraction. This is especially true when it comes to inventorying. 
From cotton swabs and crutches to syringes and surgical masks, your medical practice need thousands of items just to keep up with day-to-day operations. Running out of, well, anything could spell major problems for your practice or hospital. So you—in a panic—over-order, creating high operating expenses, wastage from unused expiring items and decreased productivity from disorganized supply rooms.
If you work in healthcare and are tired of inventory-related headaches, you're in luck: Sortly's inventory management software was designed to make your inventory process simple and easy.
Here are 10 ways Sortly can help your healthcare practice streamline inventory operations so you can focus on what really matters: the health and happiness of your patients.
Experience the simplest inventory management software.
Are you ready to transform how your business does inventory?
Start a Free Trial
1. Always know what supplies your practice has on hand
Gone are traditional inventory days where you (or your team) have to stop everything and frantically look through complicated spreadsheets or handwritten notes to see what you have in stock. Sortly offers a highly visual inventory of all your items. You'll enjoy instant access to any and all item details via phone, tablet, or traditional computer. Plus, an in-app scanner makes searching for items even faster and allows for easy-peasy updating of your complex inventory.
With Sortly's medical inventory management software solution, you'll know within seconds what you've got, where it is, what it looks like and how to get more of it.
2. Discover which docs, nurses, and MAs are using what
With Sortly, you won't just know what's gone, but who checked it out, and what it was used for. Understanding how your inventory is used is really important—and all too often, overlooked. With multiple users interacting with your inventory on a daily basis, you'll gain insights into usage patterns right away. This data can help you manage your inventory, your employees, and even your bottom line.
3. Know exactly where medical supplies or equipment are stored 
There are a zillion places to store things in your medical office or hospital, right? But there's no method to the madness! 
Save precious time and money by not allowing your team to waste hours upon hours searching for missing inventory. With Sortly's unique folder-based healthcare inventory management software, you can know where anything is in seconds. Sortly makes organizing by location intuitive, and—dare we say it—pretty darn easy. 
4. Get reminded when vital healthcare supplies are running low
Sure, it's inconvenient when a caterer runs out of tomatoes. But when your medical practice runs out of syringes, it's a downright emergency. With Sortly, you can effortlessly set low stock alerts that'll automatically remind you or your team the minute you're running low so you can reorder an item. 
These super-helpful alerts can be customized to trigger an email, in-app notification, or both.
5. Put a stop to over and under-ordering medical supplies
Too many cotton swabs? Annoyance. Too few flu shots? Utter disaster. The implications of improper inventorying and ordering are far and wide, but now, they can simply become a non-issue. With Sortly, over and under ordering stops immediately. No more guessing. Access your medical inventory on demand to view real-time, accurate information about what you've got, where it is, and when it expires. 
6. Keep track of expiring medications and more
Speaking of expiration dates… is there anything worse than wasting money on medical supplies your practice never even got the chance to use? Throwing out precious—and pricey!—inventory due to over-ordering is just not efficient.
Luckily, Sortly can help you with this in two different ways. Firstly, you'll quickly learn to use Sortly to help you order only what you really need and use. Secondly, Sortly will remind you (via email or in-app notification!) when certain inventory is nearing expiration, so you and your colleagues can be sure to rotate stock and use the expiring products first.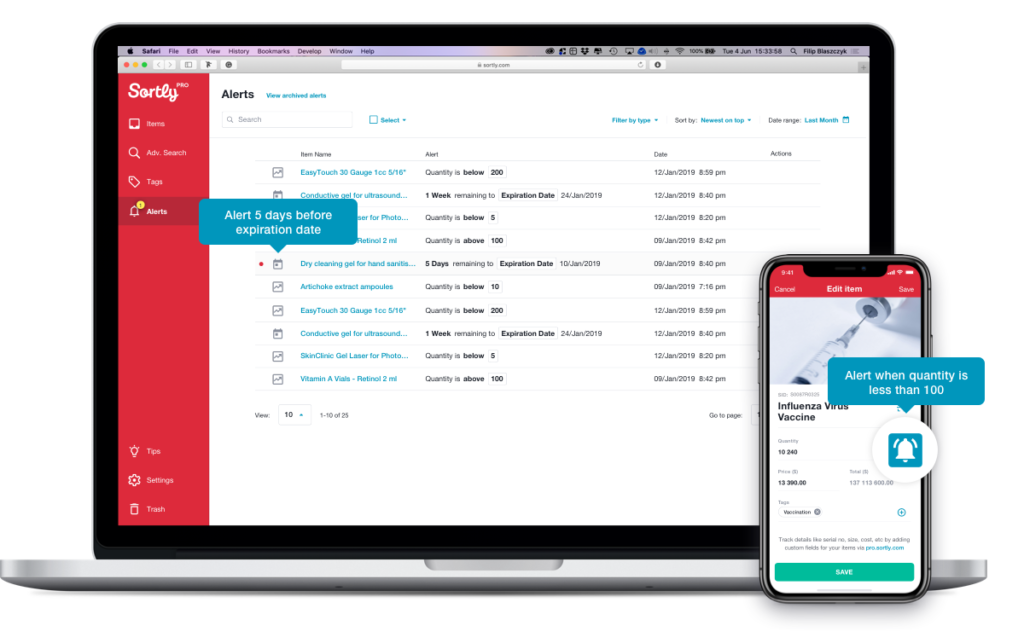 7. Reduce errors using barcodes and QR labels
Many medical practices order a lot of items that look and sound very similar but have very different uses. When you do inventory and ordering using only your eyes and your memory, you're bound to make a few mistakes. 
Did you know that using barcodes can reduce administrative errors by more than 40%? Take the guesswork out of auditing and ordering by using Sortly's easy barcode and QR label functions.
You can use the existing barcodes on your inventory or create and print custom QR codes using Sortly. Or, try a combination of the two methods. Whatever works for you. Then, simply scan an item using your smartphone or tablet to learn more information about the product, make changes to your stock, check out items, add notes or details, change its location… the list goes on and on!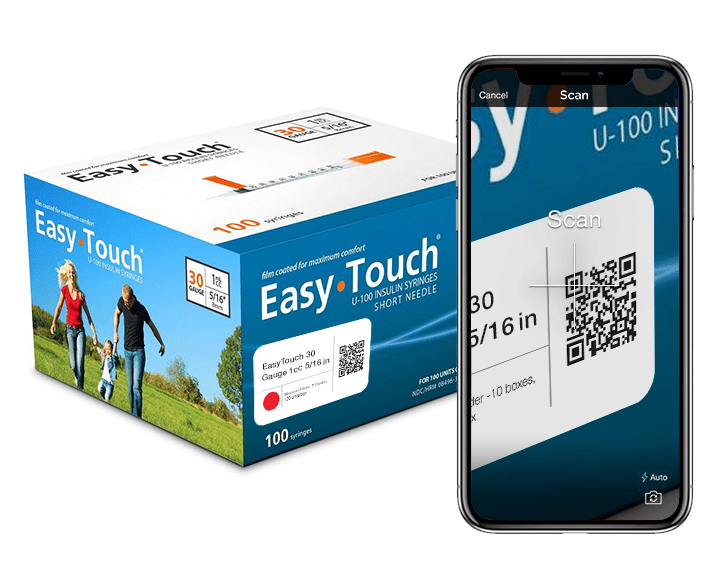 8. Keep both care and administrative teams on the same page
All too often, one (very responsible) employee is left to manage inventory all on his or her own. This is a pretty dangerous strategy. What if that employee goes on leave or moves on to a new job? 
With Sortly, knowledge is shared and accessible to all. If anyone's got a question about inventory, all he needs to do is search for the item in Sortly for answers using his smartphone, tablet, or computer. No fancy devices. And definitely no calling or emailing or texting while someone's home sick or on their honeymoon!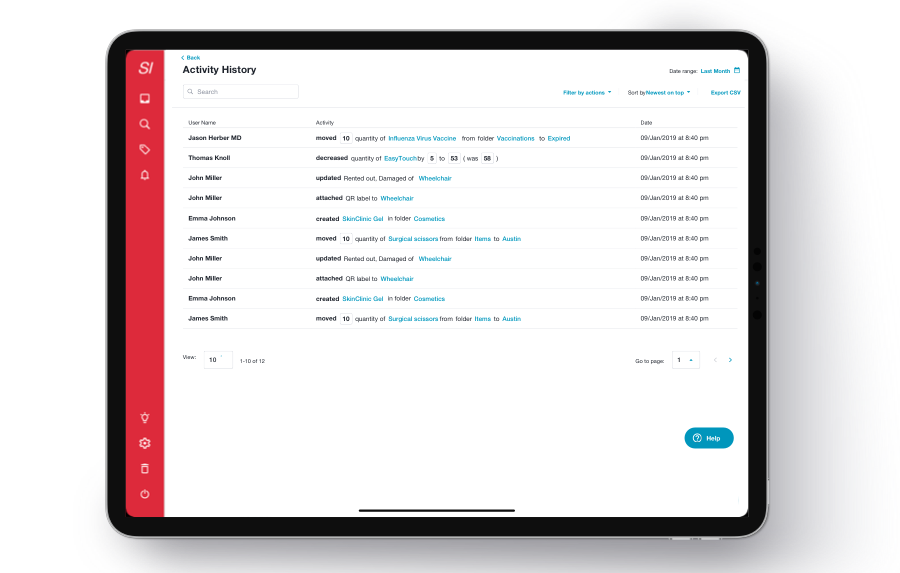 9. Don't waste budgets on bulky hardware or outdated software
Traditional inventory management systems can be expensive and bulky. Not Sortly. Not only is the app competitively priced to be affordable for medical or healthcare businesses of all sizes, but it is also cloud-based so it runs on any devices your business and employees already owns: smartphones, tablets, and desktop computers. It also runs on iOS or Android, so if you've got employees on different types of devices, don't sweat it.
So why would you allocate your budget toward an outdated inventory solution that breaks, require continuous investment, and aren't even user-friendly? 
10. Train your medical and admin teams in minutes 
You work in healthcare. You don't have a day—or even an afternoon—to shut down shop and offer inventory training. Lucky for you, most users get the hang of Sortly in a few minutes… even if they are not so tech-savvy. That's because Sortly was designed to be both intuitive and visual: it works the way your brain (and business) works. Simple as that.
About Sortly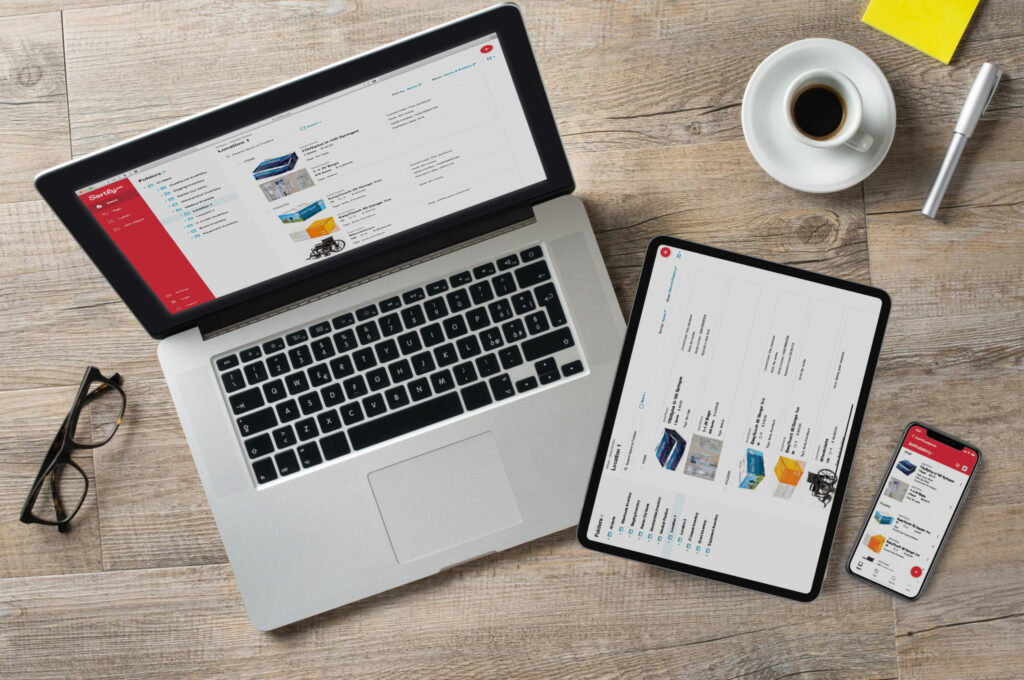 Sortly is a super simple inventory and asset tracking system that enables you to visually track all your items and any of their details including quantity, price and condition—for a more intuitive (and less maddening) way for your team to track inventory across multiple locations. 
Unlike other inventory tracking systems, you won't need any lengthy sales visits or a 100-page guide to figure out Sortly. It's built so you can have up and running in minutes, all on your own. 
It's time to say goodbye to misplaced medical supplies, complicated spreadsheets and time-consuming "solutions" so you can spend less time inventorying and more time providing care. Get started for free today with a two-week free trial.