An inventory tracking app organizes the way you track and manage your inventory. Depending on the app you choose, you can get data on when items are ordered, sold, discontinued, damaged, or moved to another location.
Is There an App to Keep Track of Inventory?
If you're wondering if there is an app to keep track of inventory, the short answer is, yes—there are more than 100. And they vary in purpose, function, capability, and cost. Although the choices might seem overwhelming, you probably understand one risk of randomly choosing an app: installing it on your device, uploading your data, and finding that it doesn't give you the results you need. What should you know before choosing an app to track your inventory?
How Does an Inventory Tracking App Work?
Some key features of advanced inventory tracking apps include:
Scans barcodes or QR codes – Hold your device over the code. The software uploads your item and any details or descriptions stored with the code.
Creates labels – Use the software to print barcode or QR code labels for uploaded items.
Tracks inventory across multiple locations – Keep track of items in multiple warehouses or offices. You can quickly view shortages or surpluses in different locations and transfer or distribute items as needed.
Provides real-time data – Access current data as items are bought, sold, or relocated. And get alerts for low stock or key dates.
Offers customization – Inventory tracking apps allow you to create customized fields, folders, views, and reports.
Provides multiple-user access – Authorize access for multiple users and set permissions for the information they can view, add, or edit in the app.
How Can You Choose an App?
Before choosing an app, compare your requirements with the capability of the app. And compare apps. Make a list of the features you need and what each app offers. What are some factors to consider?
Bar code and QR code scanning
Customizable reports
Ease of use
Help, training, and resources for the app
How the data is displayed and filtered
Limits on barcodes, QR codes, storage, product categories, or customization
Number of licenses/users
Product photos
Real-time data
Re-order alerts
Space available for item descriptions, usage, warnings, or other key facts
Supports multiple business locations
Type and availability of product support
Variety of ways to access inventory tracking (e.g., desktop, tablet, iOS, Android)
Take the App on a Test Drive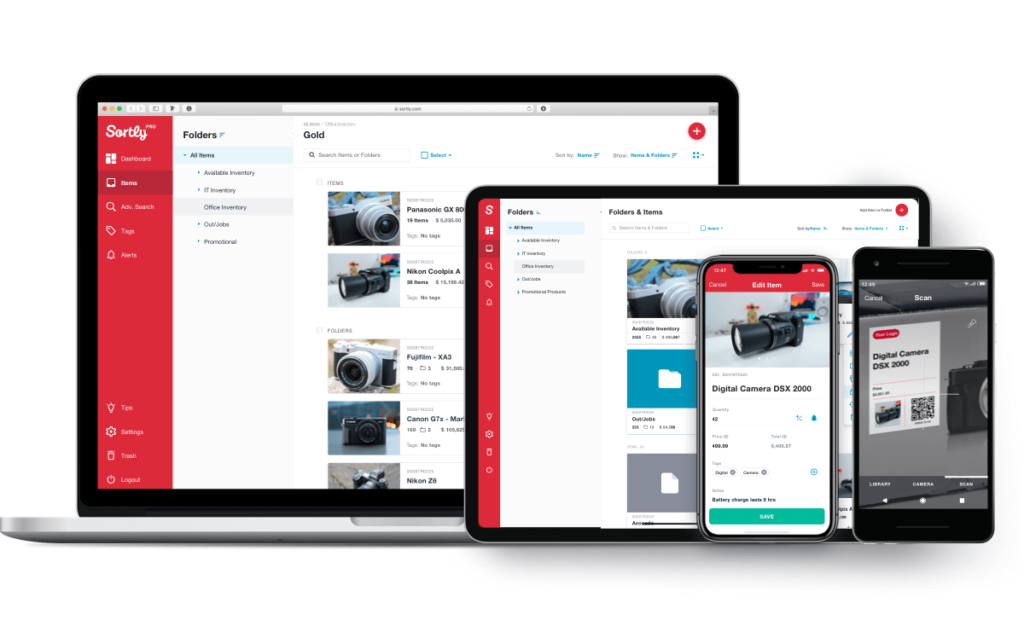 Most inventory management software apps offer a free trial. Take advantage of the offer and test drive the app from every angle:
Scan a variety of barcodes or QR codes across all product lines.
Set up categories, enter descriptions and photos, and move items from one location to another.
Get feedback from your team on ease of use and how the app displays the information you need the most.
Pay attention to the responsiveness of the app—and the product support team.
Ready to see how easy it is to use an inventory app and get real-time data? Get started with a free trial from Sortly.